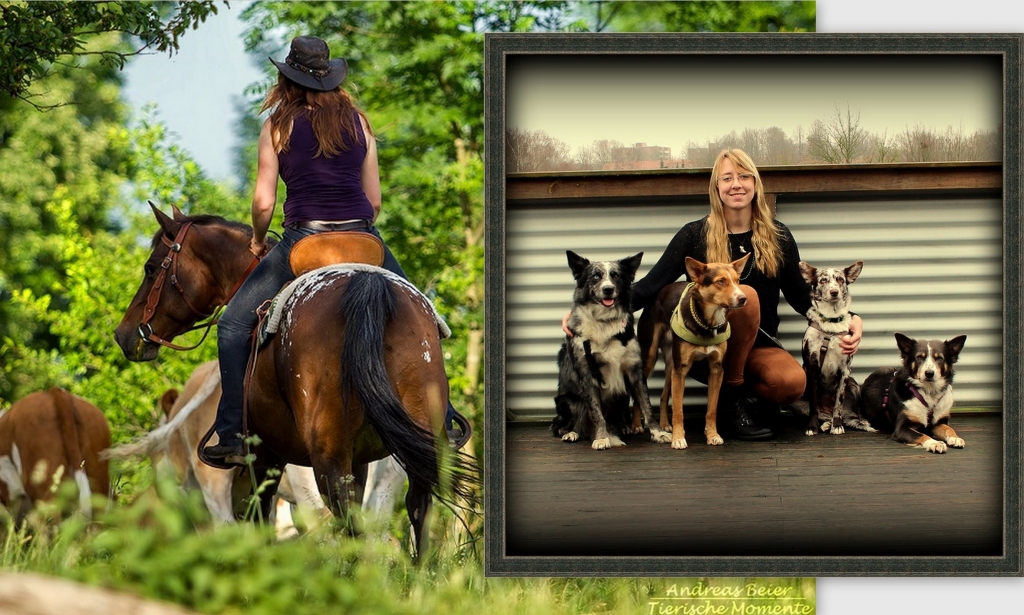 Saskia, Founder of the Meadowfield Family
Dogbehaviorist BHV/IHK, Freelancer, Farmer by chance, Globetrotter
It all began with the TV serie McLeods daughters and it is 11 years ago that I decided to spend a Working Holiday year down under. Of course I ended up working on several sheep and beef farms. As I am a horse person too it can´t get a lot better than finding a farm to live and work on with great Aussie people, all sorts of stock work and lots of it on horseback. And this is where I saw Koolies for the very first time. The farm I worked on had 4 Koolie dogs and I didn´t have a clue what they were at first.  I asked the farmers out and as the weeks went by there was no other way, I was totally in love with that kind of dog in the daily stock work as well as as a companion in the spare time.
I kept working with his Koolies for a while and then started to get on the telephone, do research and go and see other farmers and breeders who work Koolies. I then was the luckiest Koolie lover ever when I found Bex in 2009. He is with me since 11 weeks of age and we spent a few month together in Australia before we went to Germany.
I have been back to Australia 7 times since that. I just can´t help it (-:
I am very blessed and got the chance of getting to know a lot of great Australian characters. Some of them grew into close friends and helped me a lot over the last years. I got the chance of getting to know a lot of different Koolie bloodlines, shapes and working ethics. I gained knowledge about what I want in a Koolie and even more important what bloodlines I do not want to work with. Over the years I picked June, Hollie and Ace and imported them.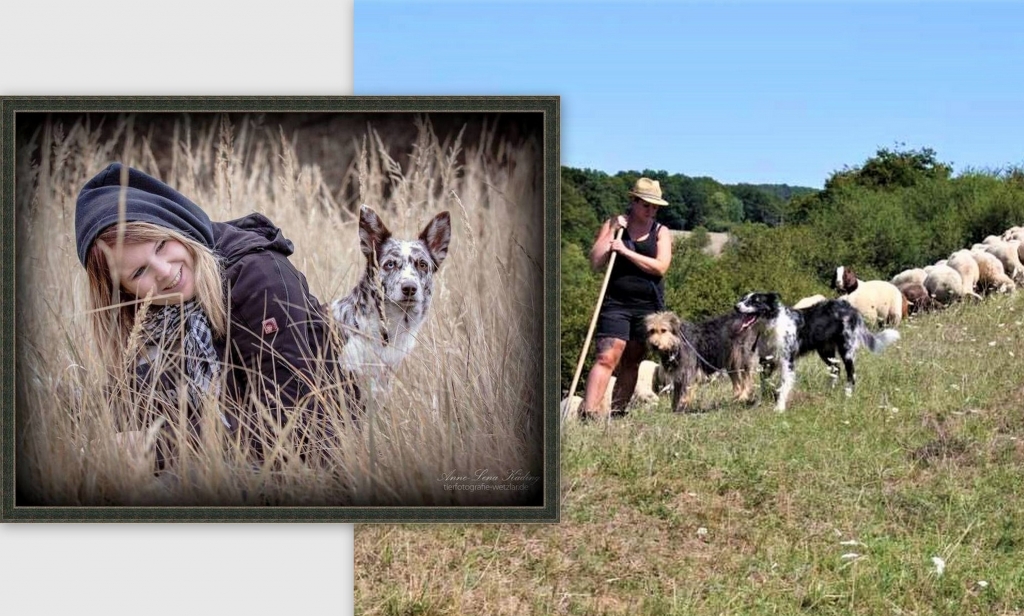 Michelle, Meadowfield second base
As a passionate shepherd I am part of the family farm wandering with about 500 ewes plus lambs 365 days a year. We mainly work with an old German breed called "Altdeutsche Hütehunde" which include the "Altdeutsche Tiger". The Tigers are supposed to have a big influence of the origin of the Koolies and this is how I actually got intrested in Koolies years ago but didn´t get the opportunity to fly to Australia back then.
Years went by and it was in 2015 when Saskias and my paths crossed and we got along great. I fell deeply in love with Hollie and as Saskias life underwent changes I came up with the idea: I can offer Hollie a full time employment 🙂
Hollie came and felt home straight away. She gave me her heart and I gave her mine.
Today in 2018 i could´nt imagine life and business without her. We work the big mob, shift them over kms, shed out ewes with new born lambs or she joins me on horse rides and of course on the sofa as she loves to snuggle up.
2017 the first litter of pups was raised at ours and I´m very grateful for that role, every pup owns a piece of my heart.
I am so much looking forward to Koolie future and being able to offer them the job they were made for.
I would like to warn of importing Koolies unseen. All you then do is trusting a breeder based on the impression you got from their web presentence and believe me a lot of breeders over there see things quite different from us in Europe. There have been people that did expect another dog they got sent in the end.
I highly recommend lot of research and insist on getting Fotos, Videos, Test and X-ray results of both parents and even better more relatives.
Koolies are attached right to our heart so it´s really important to set high standards in working ability plus health requirements in order to gain a valuable genepool to be able to spend long years with these extraordinary dogs. There is a little network of likeminded people in Europe and I´m happy to help get in touch and help with Australian contacts aswell.