Our pups grow up as part of the family in house and get introduced to different places, sounds, grounds, humans, kids, pets and crate training while they grow up. It is very important to us to prepare them as good as we can for a happy life.
** TILLI x GIGGSY ** Wurf geboren am 12.10.2021
** YUUWA X ZUKI ** Wurf geboren am 22.07.2021
Yuuwas Geburt begann unkompliziert und das Mädchen sowie der merle Rüde erblickten schnell das Licht der Welt und Yuuwa kümmerte sich sofort rührend um ihre Babies. Dann geschah lange nichts, Caro war sich aber sicher, dass da noch jemand drin sein musste und Yuuwa wirkte zunehmend unruhig. Gott sei Dank hat sie auf ihr Bauchgefühl gehört und ist prompt los in die Tierklinik. Dort bekam Yuuwa einen Notkaiserschnitt. Der gelinde gesagt sehr propere blau weiße Rüde steckte fest. Er hatt schon kaum mehr Herztöne, dank Caros Handeln und der Arbeit der Tierklinik, ist er aber wohlauf und erfreut sich jezt bester Gesundheit. Wir sind heilfroh. Die 3 genießen jetzt eine pralle Milchbar als Dauerbuffet und wachsen und gedeihen prächtig. Sie sind bereits vergeben.
** SPLASH X ACE ** Wurf geboren am 26.02.2021
** HOLLIE X BEX ** Wurf geboren am 04.10.2020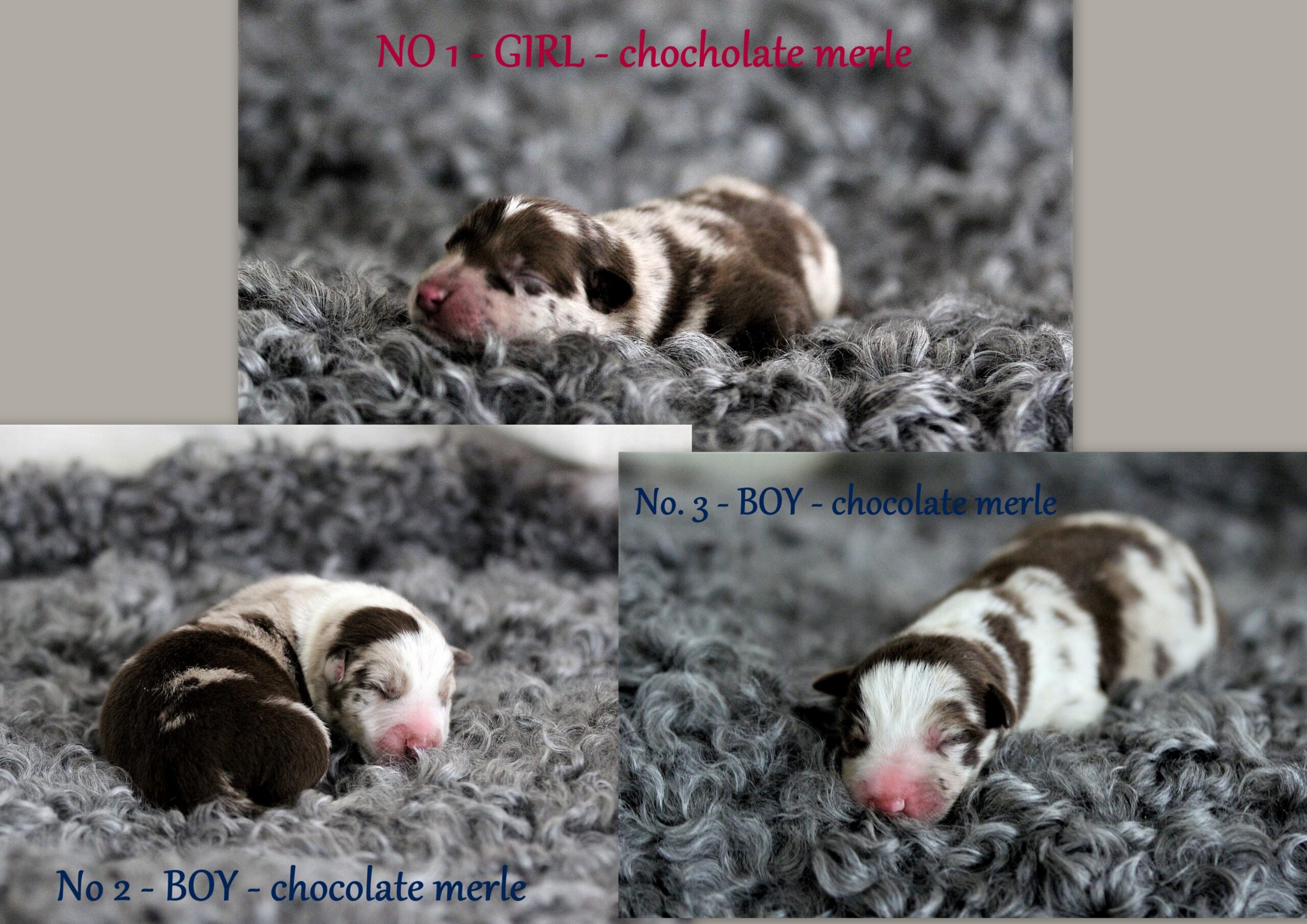 Die 3 "Oupsis", mein glücklicher Unfall. Bex ist 11 und eigentlich seit ein paar Jahren nicht mehr deckbereit. Im Sommer besuchte ich Michelle und ihr Baby und unbemerkt hat der alte Knabe Hollie gedeckt, was wir erst 6 Wochenspäter gemerkt haben als sich ihr Verhalten von dem einer scheinschwangeren Hündin unterschied. Und die Rundungen. Natürlich hätten wir niemals merle to merle verpaart,was in Australien zwar noch gemacht wird, aber ich auch als zu riskant sehe. Nun haben wir wirklich unbeschreibliches Glück, dass wir diese 3 gesunden und quietschvidelen Helden bekommen haben. Die Vaterschaft von Bex wurde per Gentest von Laboklin bestätigt. Klar ist, dass ich einen dieser Oupsis bei mir behalte 🙂
** HOLLIE X LUKE ** litter born on the 01.10.2019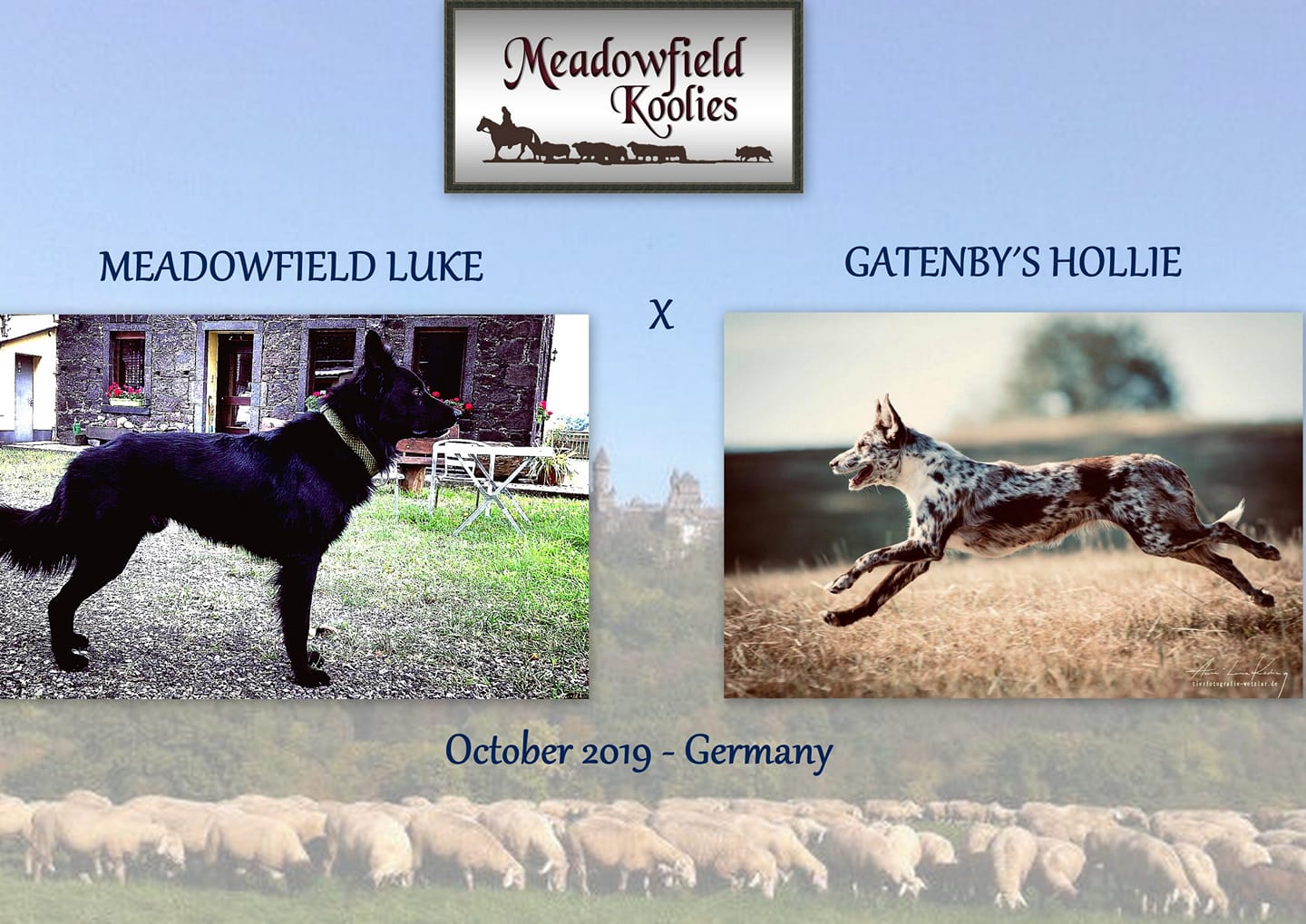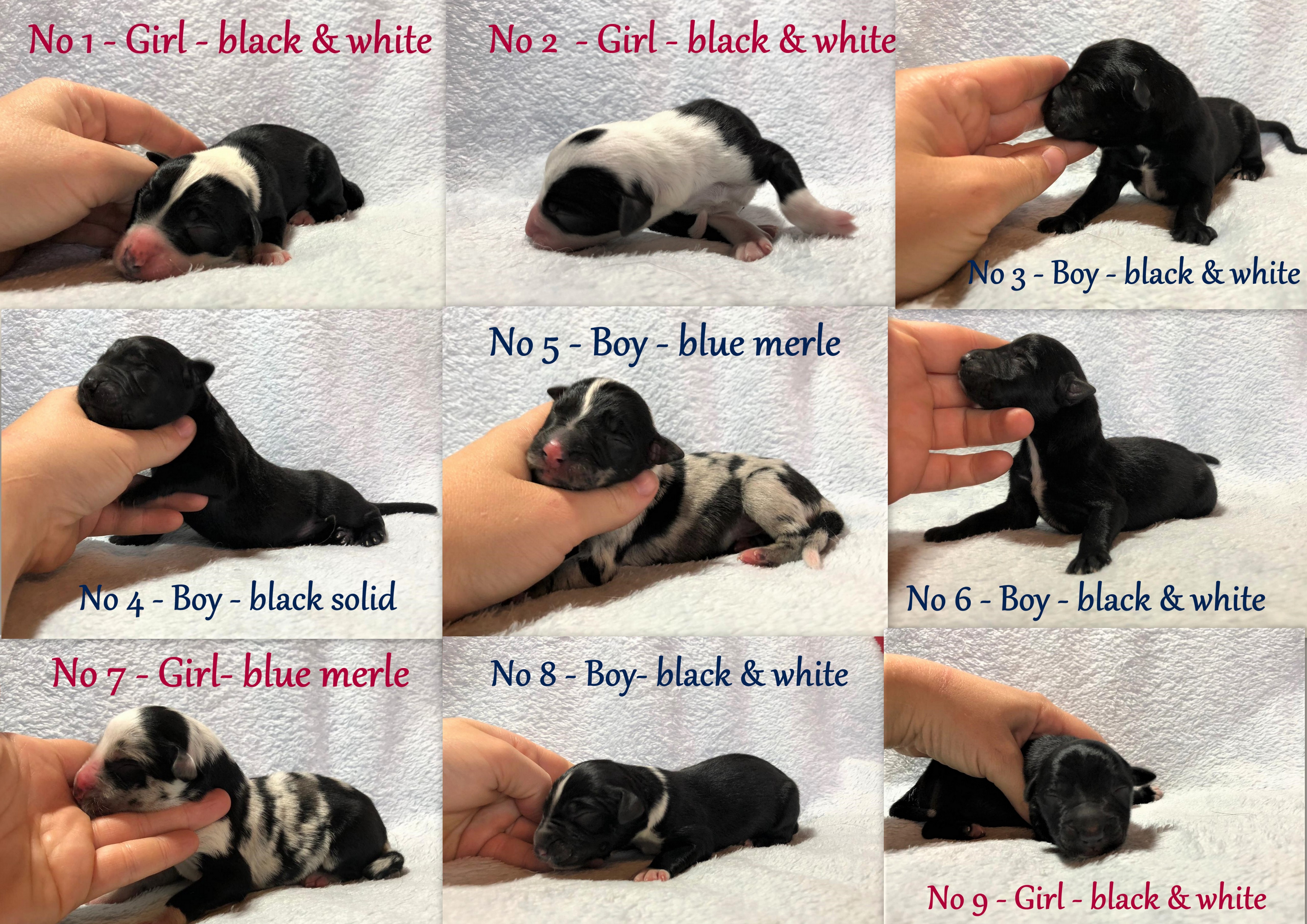 ** TILLI X ACE ** litter born on the 07.08.2019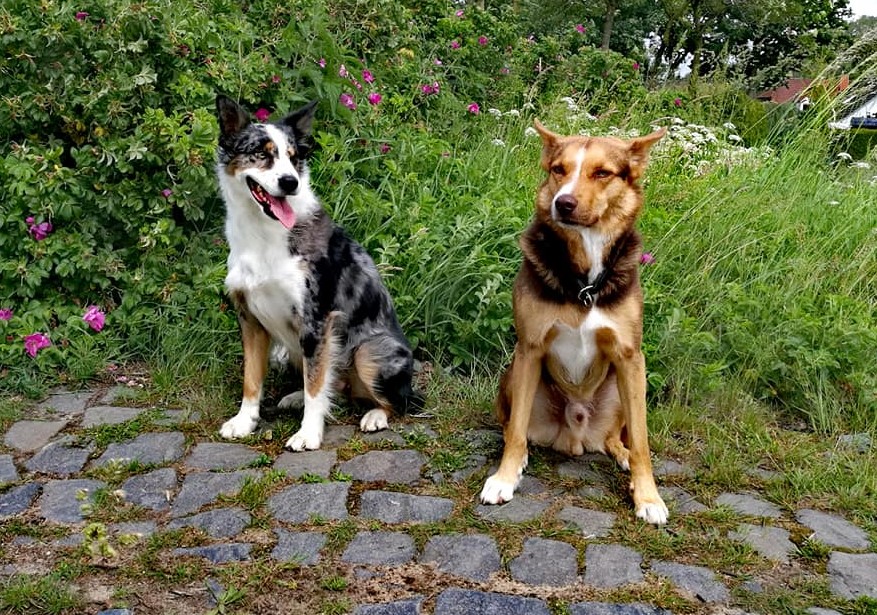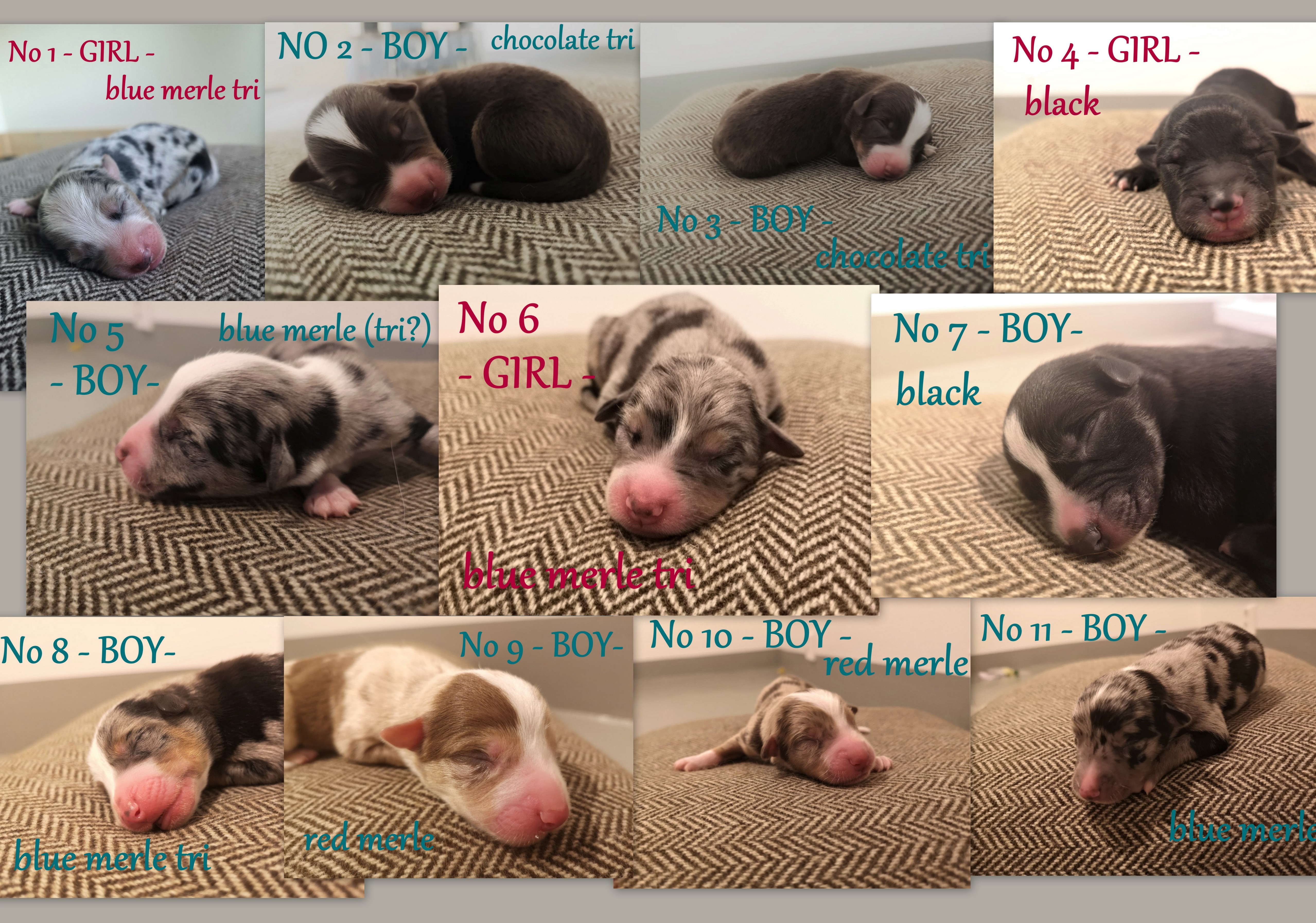 After it didn´t work out last year with Tilli it looks like she thought to take after it all now and gave birth to 11!! healthy big active pups. We wished for a normal sized litter for her "first time" but WOW she does an absolutely mommey job and all babies do great, there is not one being behind in putting on weight. Plus we do have an absolutely stunning range of colouring again. We are thrilled! <3
We have a waiting list and are looking forward to your enquiry with a little introduction of yourself 🙂
** SPLASH x TURBO ** litter born on the 02.08.2018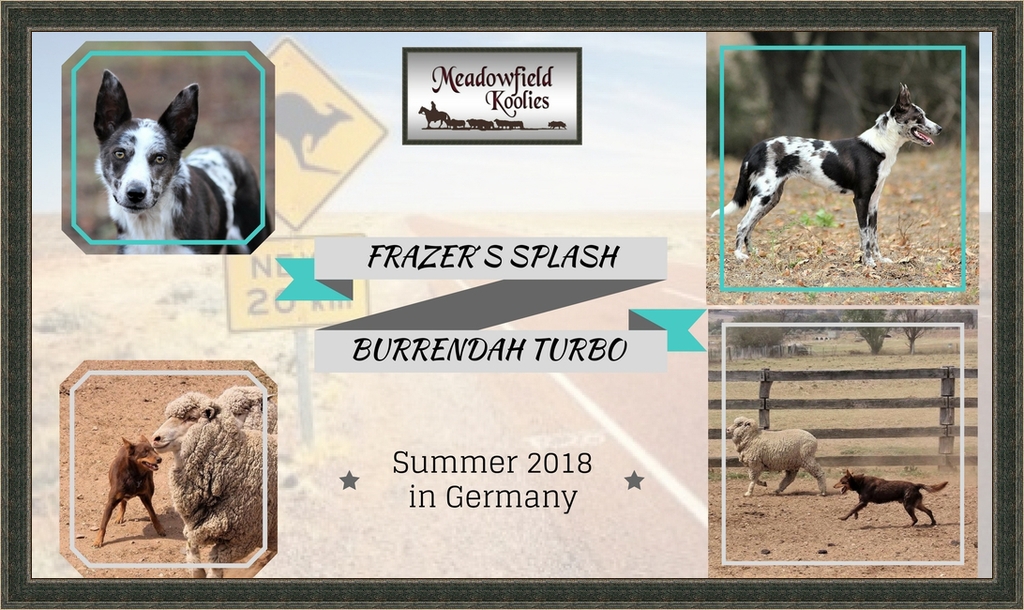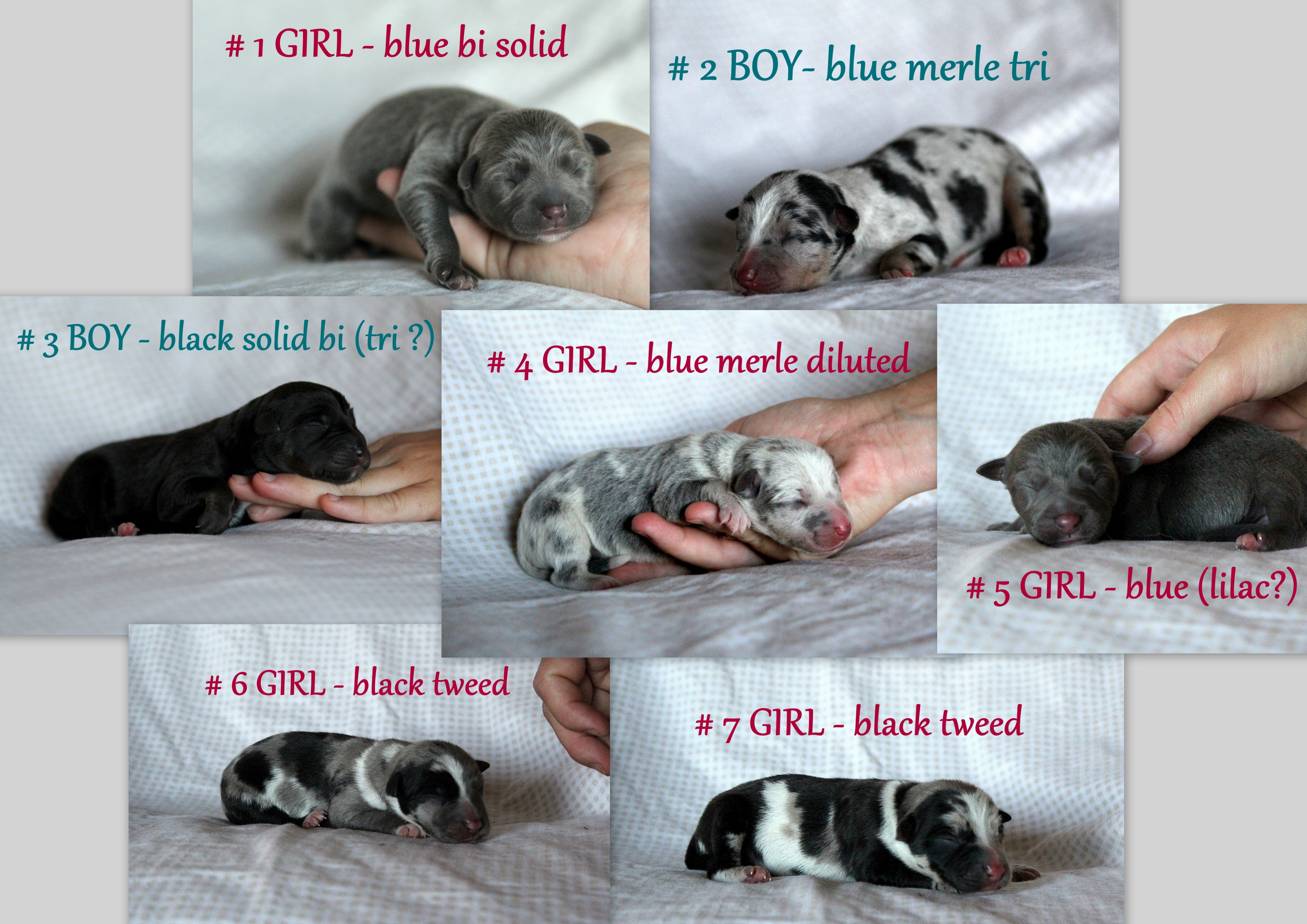 We are so proud of Splash giving birth to her beautiful babies in this years super heat wave. After the first girl sadly born dead 7 top fitpups followed her. A stunning bunch of colouring, this pairing is verypromising.
Pups are all spoken for. We have a rather long waiting list and are looking forward to your enquiry with a little introduction of yourself 🙂
** ACE x HOLLIE ** litter born on the 25.08.2015